Themed Dress Days at PKC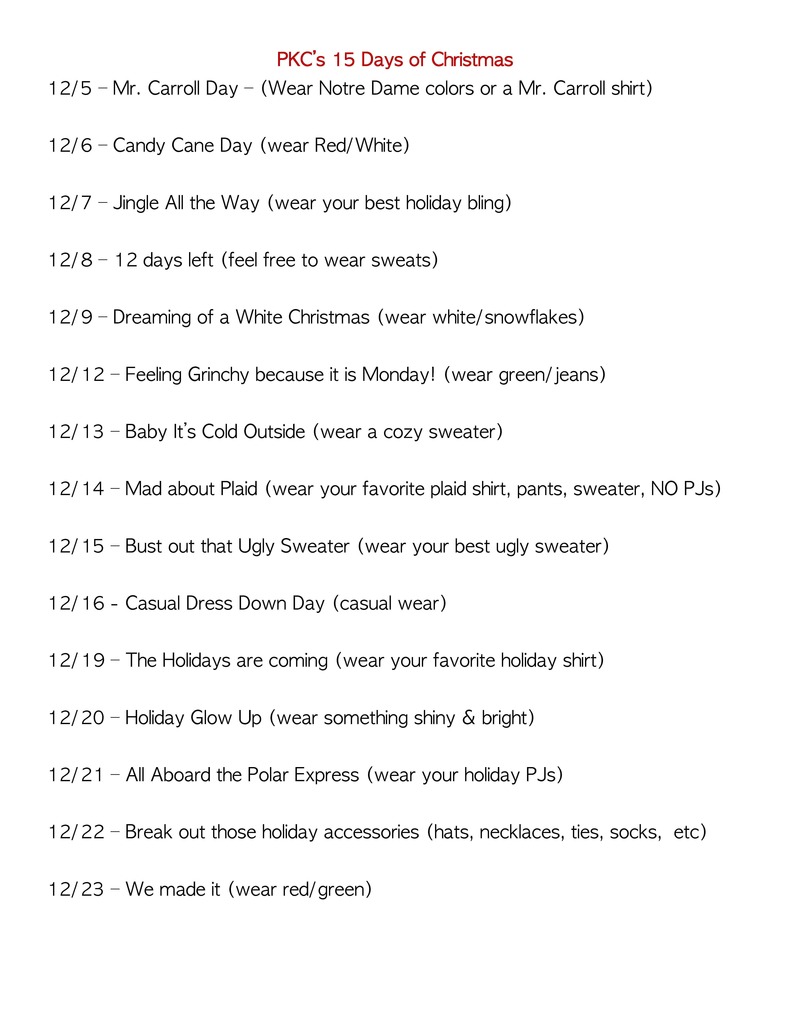 7th & 8th Grade December Dance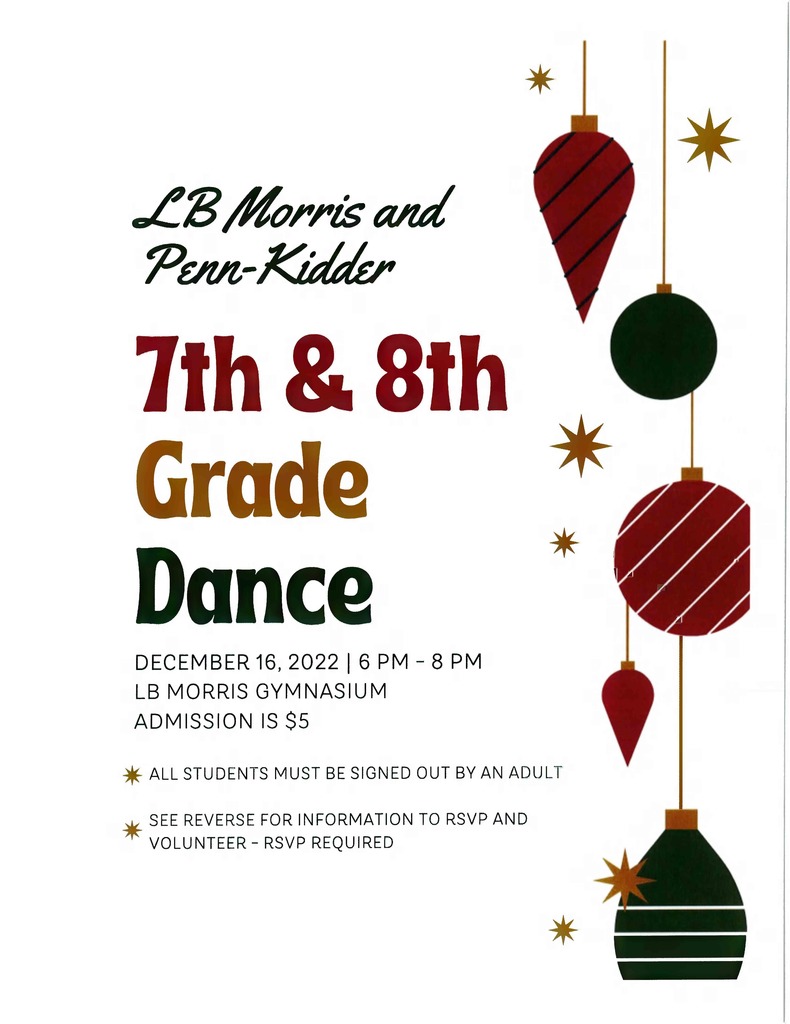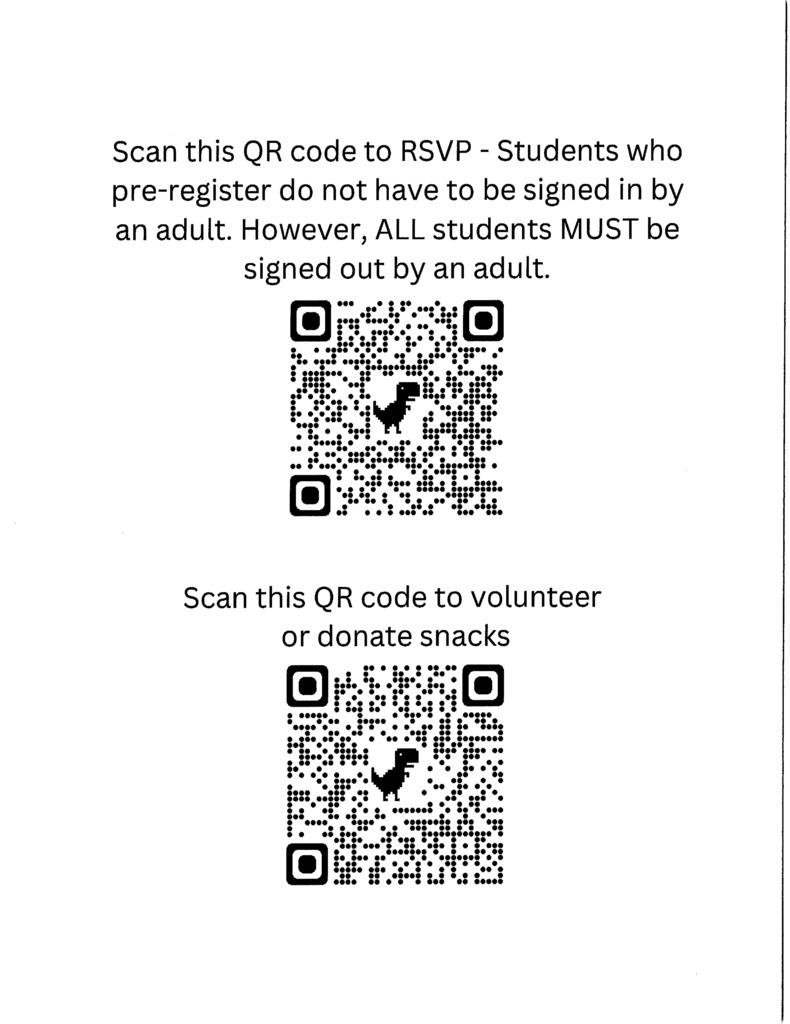 Reminder: Early Dismissal today (11/23). Please arrive for your children 3 hours earlier than normal.

Trees for Troops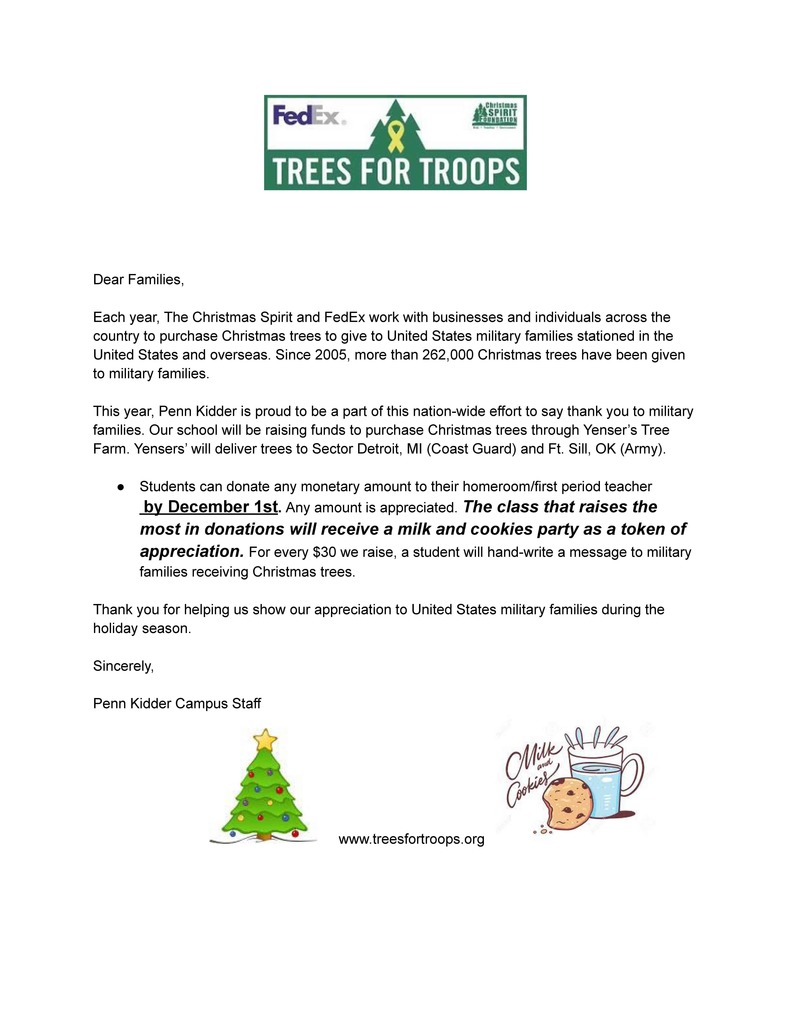 PTA Membership Contest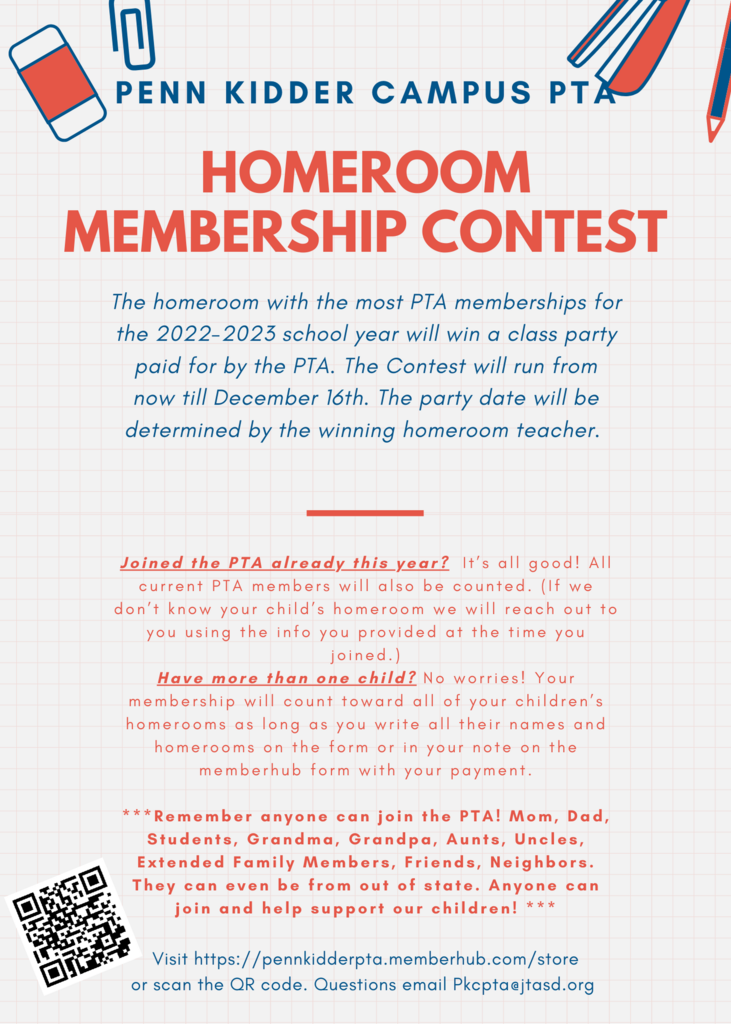 All after School activities are canceled for today, Tuesday, November 15th

REMINDER: Parent Teacher Conferences will be held on Wednesday, November 16, 2022 from 1:00-3:30 p.m. and from 6:00-8:00 p.m. and on Thursday, November 17, 2022 from 1:00-3:30 p.m. To schedule a conference please sure the scheduling link below:
https://forms.gle/u8EiWKc9yC4HiSZz9
Please note: November 16-18 (Wednesday, Thursday and Friday) will be early dismissal days. Students will arrive home 3 hours earlier than normal.


The PKC PTA is asking for donations of baked goods for the food stand at tomorrow night's (11/10) Math Night Event at PKC. Proceeds from the baked goods will benefit the 7th grade student class. Also, the 7th & 8th grade November dance is scheduled for Friday, November 18th from 6:00-8:00 at Penn Kidder Campus. Donations of canned goods or non-perishable food items are being requested. students attending the dance will need a signed permission slip. One is attached below or students can pick up a copy from the table outside the office. Concerns or questions, please contact the PTA at
pkcpta@jtasd.org

Toys for Tots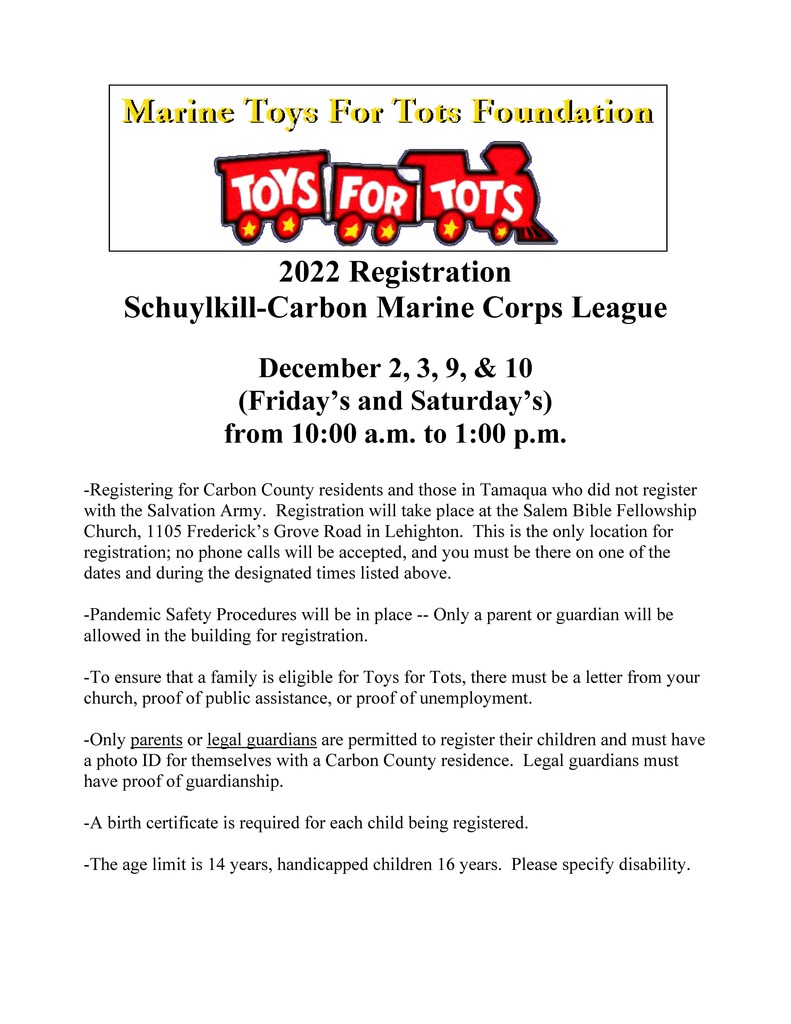 Family Math Night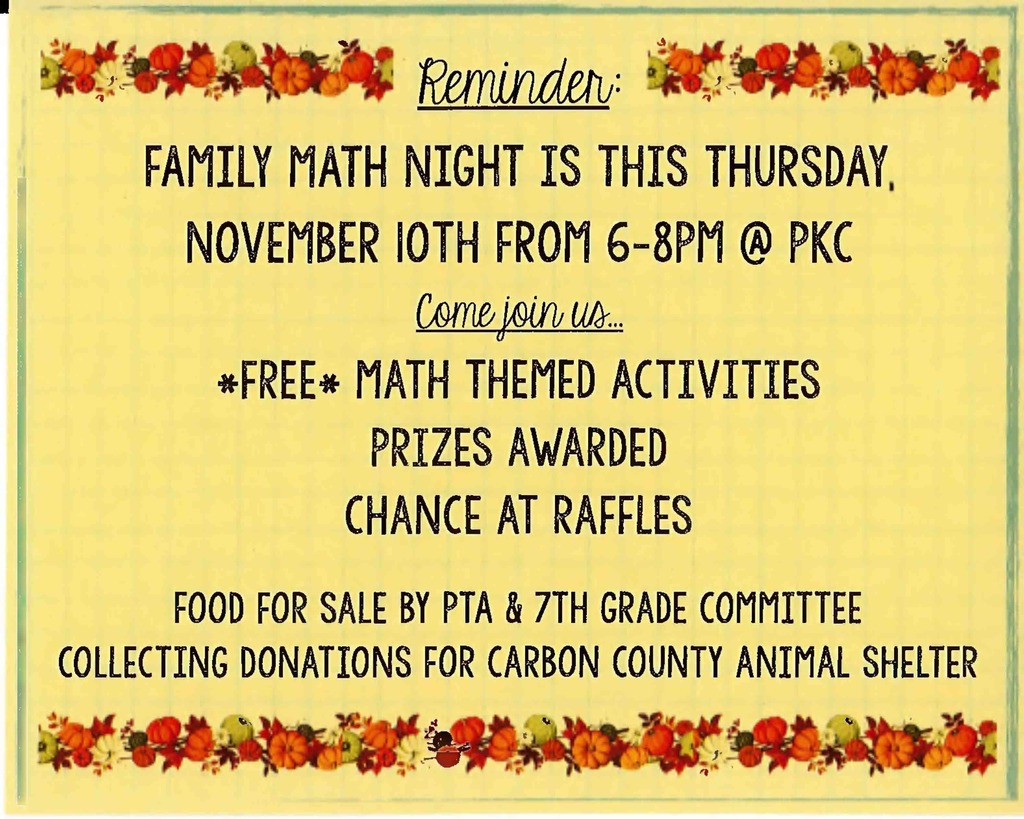 Scouting for Food is a Boy Scouts of America national initiative to help fight hunger in our local communities. Place canned goods and other non-perishable items such as those listed below in the box located in the school lobby by Friday, November 11th. No Expired or Opened Items Please. Canned Vegetables, Fruit, Soups, Chili, etc. Canned Meats, Boxed: Pasta, Rice, Helper Meals, Potatoes Peanut Butter, Jelly/Jam Juices, Baked Good Mixes ( cake, brownies, etc.) Toilet Paper, Paper Towels Cleaning Supplies Personal Care Products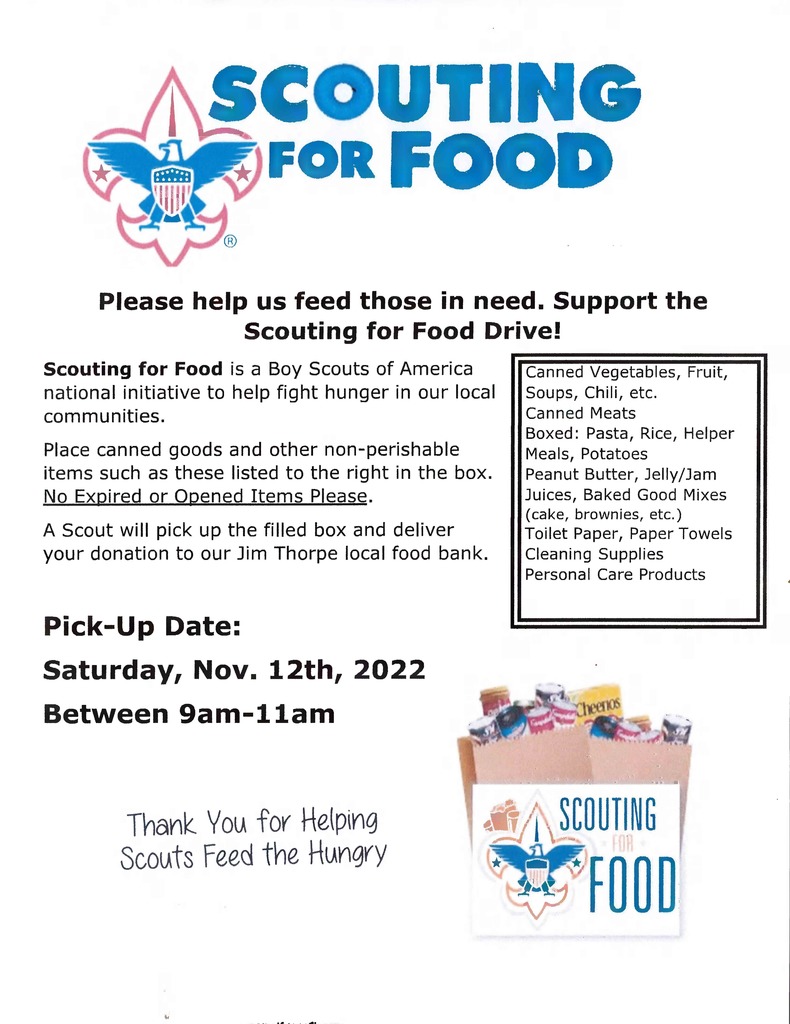 Open gym tomorrow (11/3) from 6-8 at the high school for boys basketball, grades 7-12

Open Gym at the high school tonight (11/1) for boys basketball, grades 7th-12th

Holiday Assistance Letter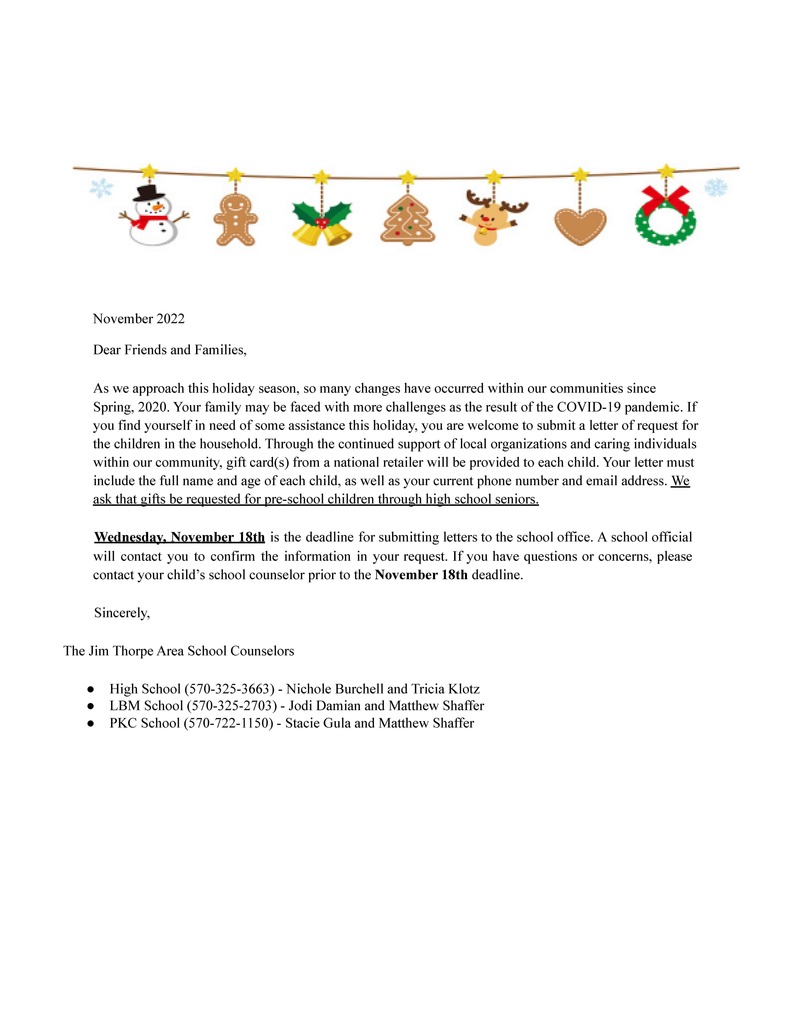 Booster Activities 10/31-11/4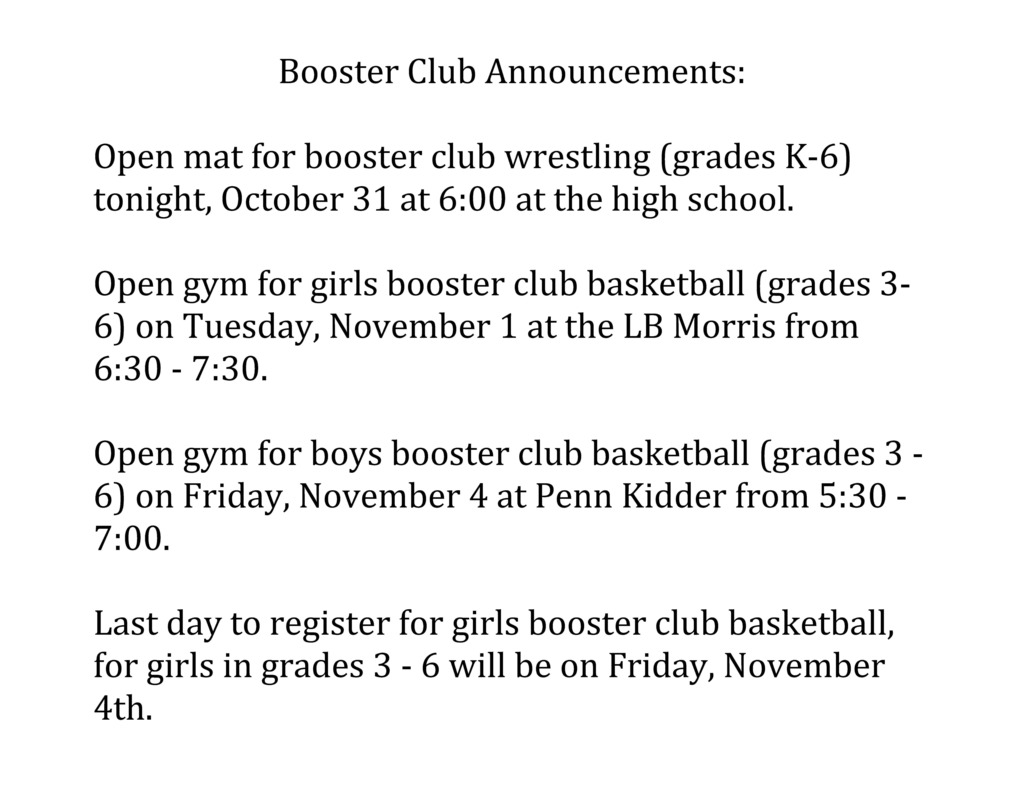 A huge shoutout goes to the Marching Olympians as they were awarded 2nd place in the "Best Group" category at the 27th annual Jim Thorpe Lions Club local Halloween Parade. Congratulations to the Marching Olympians on a job well done!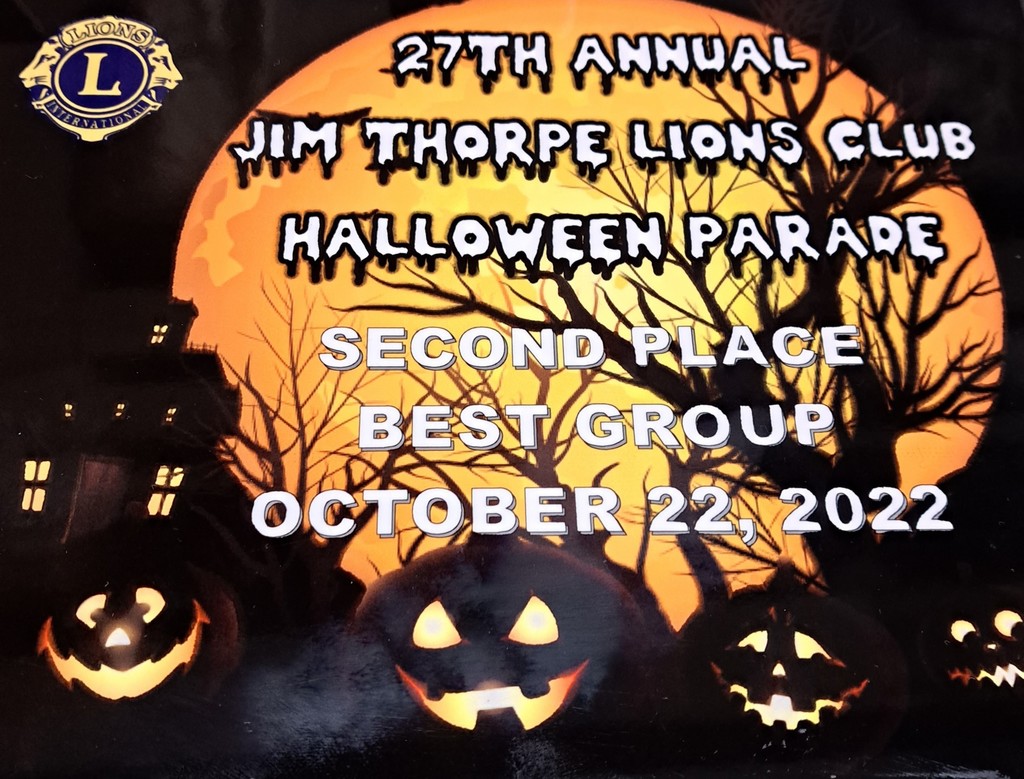 Booster UPDATE Girls booster club grades 3 - 6 open gym for Tuesday (10/25) is changed to the LB Morris.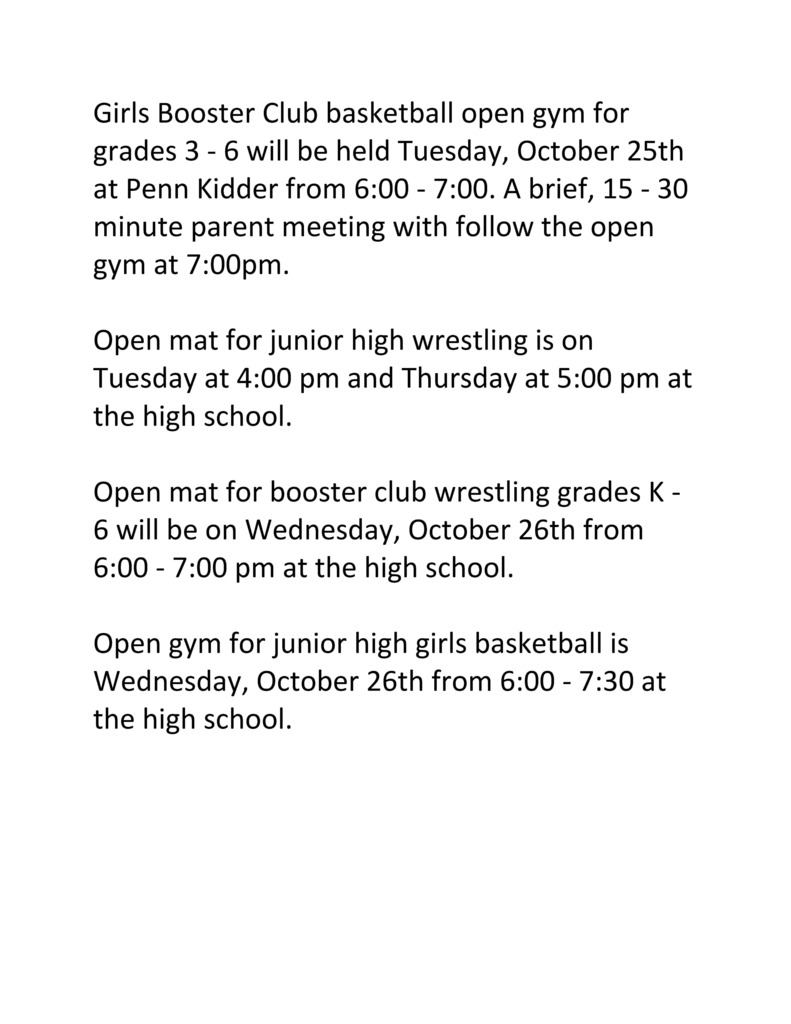 Discounted Camelback ski/snowboard passes for students age 6 and up from any of the Jim Thorpe Schools and/or their parents are available for purchase until Monday, November 14th. *** This will NOT be a group event. Parents will be responsible to transport students to and from the mountain on your own accord in compliance with the pass restrictions. Pricing and pass options can be found at the following link:
https://core-docs.s3.amazonaws.com/documents/asset/uploaded_file/2793/PKC/2514038/SGP-_Parent_Brochure_.pdf
Passes can be requested online. For every pass purchase a waiver must be completed. Orders and payments must be received on or before November 14th. Should you have any additional questions please contact Anita Repecki at
arepecki@jtasd.org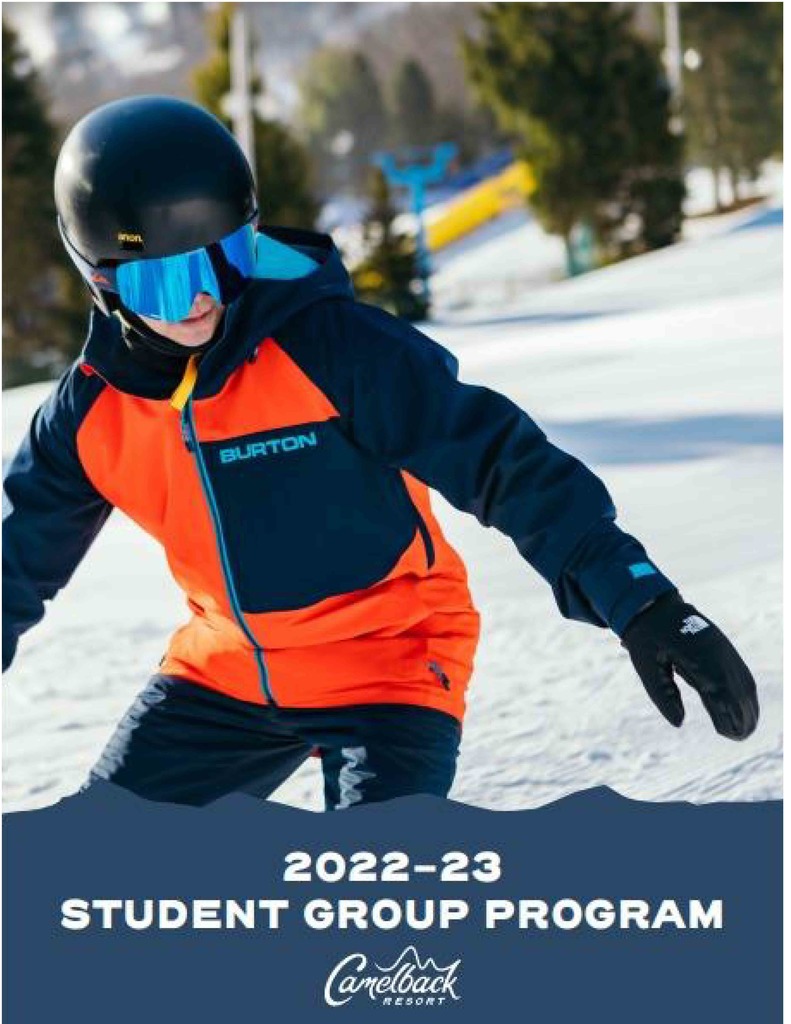 Family Math Night