JT Youth Soccer
Raceway Ticket Request Form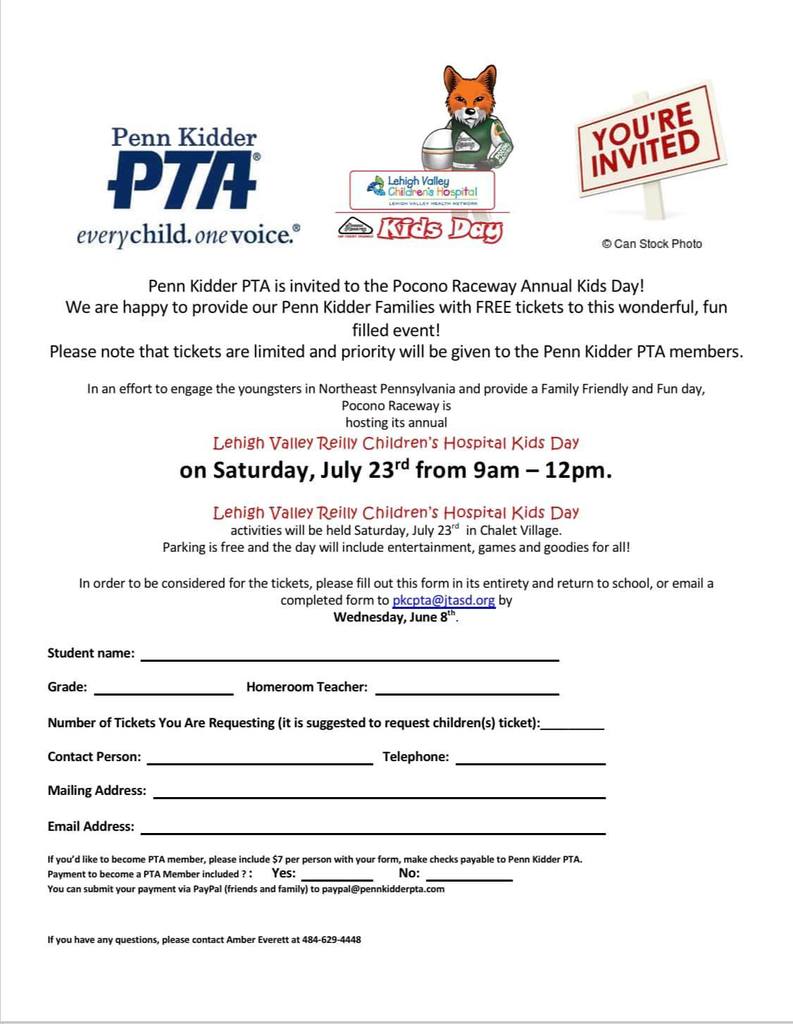 5th Grade Turkey Hill Experience Trip Reminder: Students will be departing the school Monday, June 6th @ 8:30 and returning to the school @ 4:00. Students will need to be picked up by parents or guardians in the front parking area of the school at 4:00.
Good Day, 8th grade parents. We just wanted to send out a reminder for tonight's event. The children who returned signed permission slips will be staying after school to start their night of festivities. The evening will be ending at 9:00 and your child can be picked up at the cafeteria door in the back of the building. If any child is going home with someone other than their legal guardian we either need a note or email confirmation. You may send emails to
Pkcpta@jtasd.org
. Thank you
FIELD DAY SPECTATORS Parents/Guardians are permitted to attend field day as a spectator. All spectators must sign in at the sign in table outside by the field area and remain in the designated spectator area throughout the events.
Parents and guardians of 7th and 8th graders Wednesday, June 1st, is the 7th and 8th-grade picnic at Penn Forest Township Park. The picnic will be from 9:30 am-1:00 pm. Students should wear sunscreen and outdoor-appropriate clothing and footwear. We are looking forward to celebrating the end of a great year!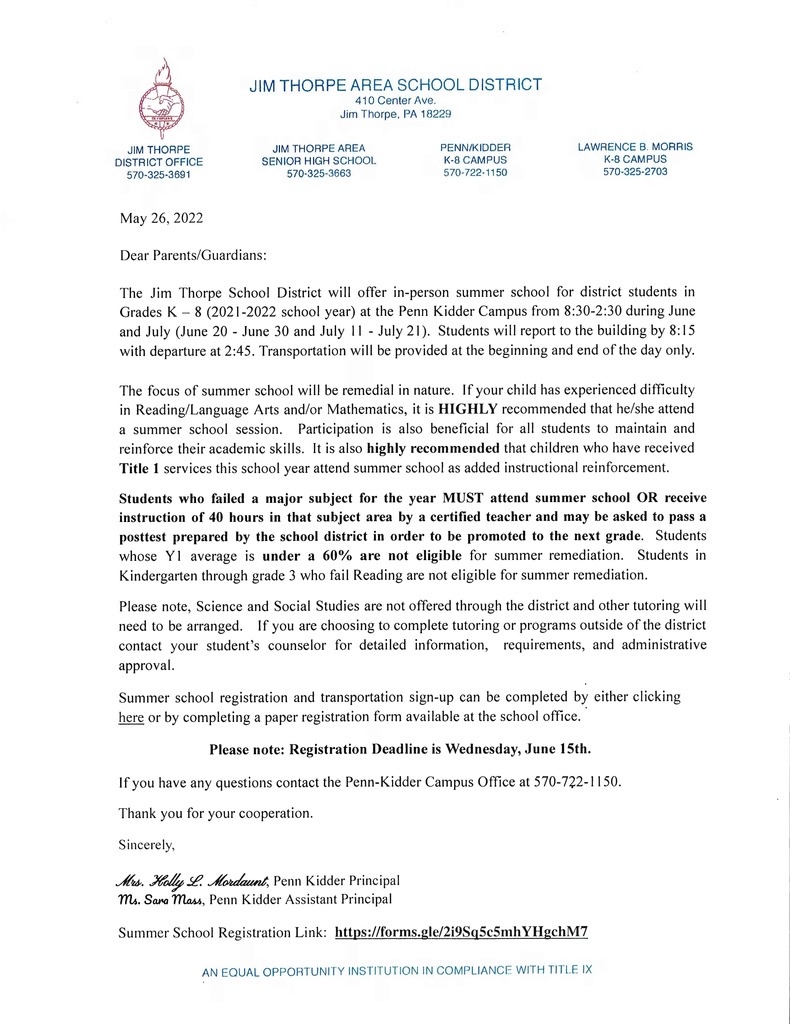 LVHN - Coordinated Health is pleased to offer complimentary PIAA sports physicals to the athletes at your school. Fall Sport physicals will be held at the High School nurse's office on June 9th beginning at 4:00pm: 4:00-5:00 Students currently in 11th and 10th grades 5:00-6:00 Students currently in 9th and 8th grades 6:00-7:00 Students currently in 6th and 7th grades Sections 1-6 of the physical form must be completed and turned in at the time of the physical. Please use the link below for the physical form. Section 7 will be completed by the physician Students who are getting a private physical must have them completed June 1 or after.
https://core-docs.s3.amazonaws.com/documents/asset/uploaded_file/2793/JTASD/1839018/Physical_form_2022.pdf
Penn kidder PTA is looking for volunteers to help with two events: Tuesday 5/31 for 7th and 8th grade field day at the Jim Thorpe High School field running event stations. Friday 6/3 for the 8th grade moving up party, serving food and chaperoning the event. If you would be willing to help or need more information please email the PTA at
pkcpta@jtasd.org
or message our Facebook page.

Superintendent Mr. Rushefski: Coming to school today following the Uvalde, TX tragedy is extremely difficult. We know that these life and death situations have an effect on all of us, especially our students. We want our schools to be a positive learning environment that is a safe haven to allow students to learn and have the most normal school experience, if that is possible. Let's review what we do to be safe at JTASD: Local/State Police Support, School Resource Officers in each school ALICE active shooter training for staff and students to learn how to respond to an intruder in the building Yearly Active Shooter Drills Yearly Lockdown/Lockout Drills Monthly Fire/Evacuation Drills, Bi-yearly Bus Evacuations Drills Safety Teams to Review our Operations The administrative team, guidance counselors, teachers and staff keep the safety of the students in the forefront of all that they do. They are available and listening today and in the days to come to the emotional concerns that are coming forward because of the recent events. Should you have any questions or concerns, please feel free to reach out to Lori Lienhard-Director of Security, our school principals, and our guidance counselors. We will get through this together.
Spaghetti Dinner Fundraiser with proceeds to go to the Johnson Family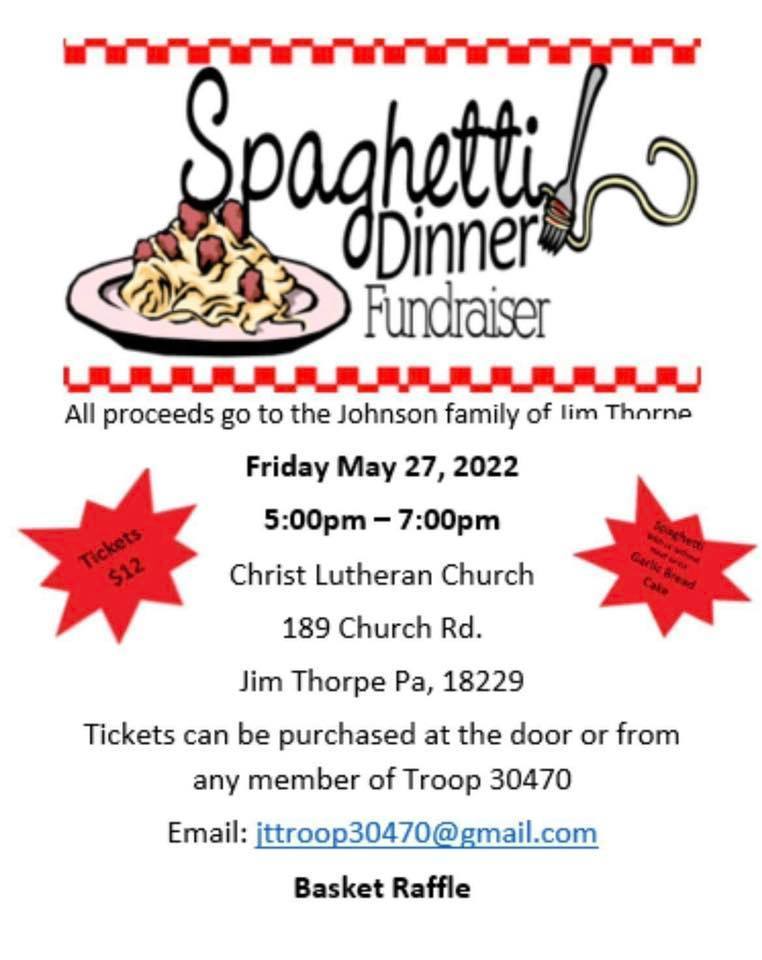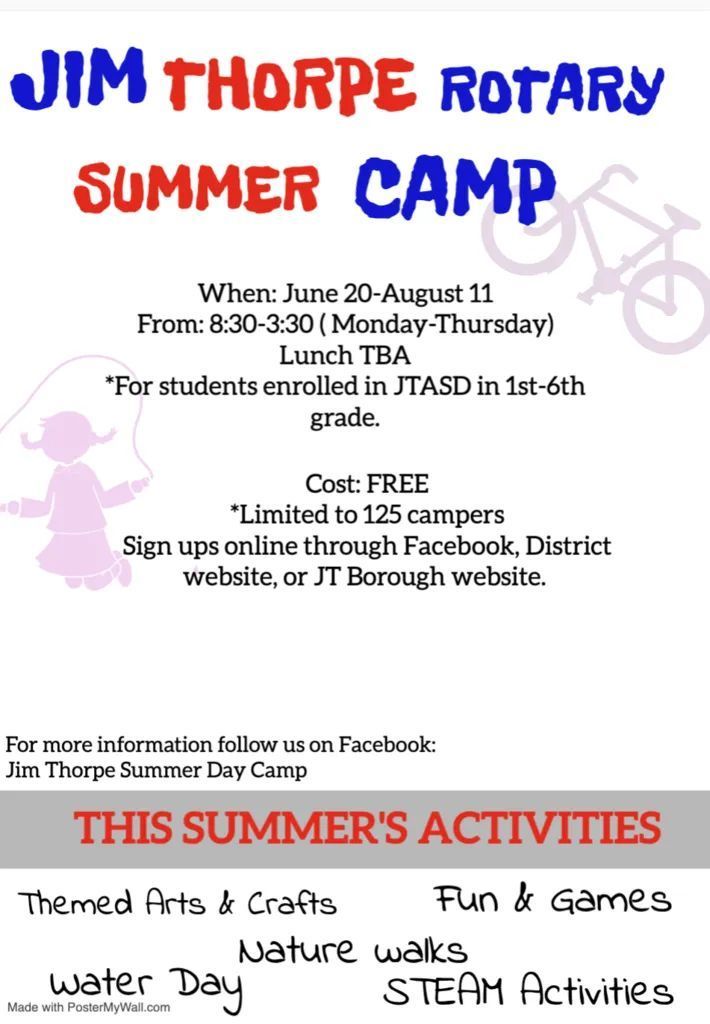 8th Grade Moving Up Ceremony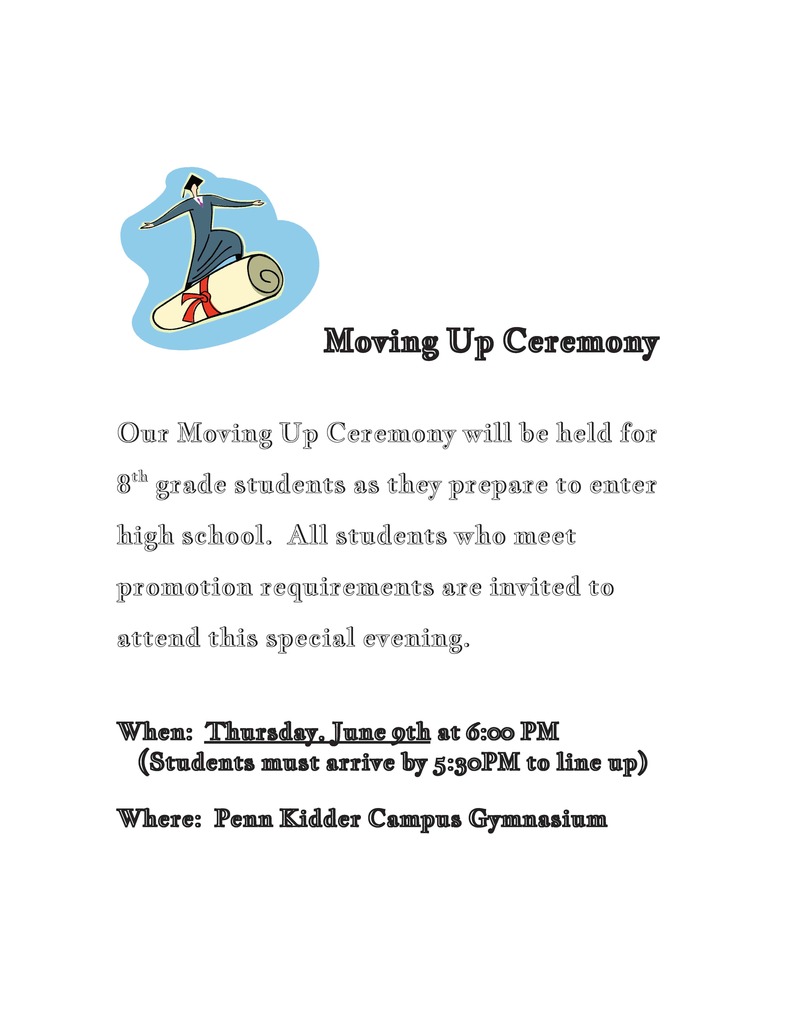 Due to the impending severe weather, the Jim Thorpe Area School District will be dismissing early today on Monday May 16. The high school will dismiss at 11:30AM, and the L. B. Morris School and Penn-Kidder Campus will dismiss at 12:30PM. There will be no afternoon Pre-K Counts class, and all after school activities are cancelled.
Boys basketball open gym is canceled for this evening, Monday May 16th. The next open gym will be Wednesday from 6-8 at the high school for grades 6-11.

On Wednesday, May 11th, there will be a Board Meeting held at 7PM at the High School auditorium. On Friday, May 12, there will be an early dismissal with the HS day ending at 11:30AM and the LB/PK at 12:30PM.
Camp GOTR (Girls on the Run) for girls in grades 3rd-5th grade.
12:30 Early Dismissal on ​Friday, May 13th. Parents should arrive for students 3 hours earlier than normal.
PKC Art Show and Science Fair Thursday, May 19th from 6:00-8:00PM