Superintendent Mr. Rushefski: Coming to school today following the Uvalde, TX tragedy is extremely difficult. We know that these life and death situations have an effect on all of us, especially our students. We want our schools to be a positive learning environment that is a safe haven to allow students to learn and have the most normal school experience, if that is possible. Let's review what we do to be safe at JTASD: Local/State Police Support, School Resource Officers in each school ALICE active shooter training for staff and students to learn how to respond to an intruder in the building Yearly Active Shooter Drills Yearly Lockdown/Lockout Drills Monthly Fire/Evacuation Drills, Bi-yearly Bus Evacuations Drills Safety Teams to Review our Operations The administrative team, guidance counselors, teachers and staff keep the safety of the students in the forefront of all that they do. They are available and listening today and in the days to come to the emotional concerns that are coming forward because of the recent events. Should you have any questions or concerns, please feel free to reach out to Lori Lienhard-Director of Security, our school principals, and our guidance counselors. We will get through this together.

Due to the impending severe weather, the Jim Thorpe Area School District will be dismissing early today on Monday May 16. The high school will dismiss at 11:30AM, and the L. B. Morris School and Penn-Kidder Campus will dismiss at 12:30PM. There will be no afternoon Pre-K Counts class, and all after school activities are cancelled.

On Wednesday, May 11th, there will be a Board Meeting held at 7PM at the High School auditorium. On Friday, May 12, there will be an early dismissal with the HS day ending at 11:30AM and the LB/PK at 12:30PM.

​The Jim Thorpe Area School District will be on a Two-Hour Delay on Tuesday, April 19, 2022. Please be safe at the bus stops and on the roads.

On Wednesday, April 13, the JTASD will dismiss early with HS at 11:30AM and the LB/PK at 12:30PM. The Easter Break will continue through Monday, April 18. School reopens on Tuesday, April 19 with our students/teachers back in the classrooms. Also, there will be a Board Meeting held on Wednesday evening at 7PM at the High School auditorium. Enjoy your Spring Break.

Q3 report cards have been sent via email. If you do not receive it, please contact the school office. Remember to check your spam folder. Grades are also posted on PowerSchool Parent Portal.
Our student vs. faculty basketball game will be live-streamed tonight on the Olympian Way YouTube channel. Game starts at 6:00!
Reminder- Spring School Pictures are tomorrow Wednesday , March 30th @ the LB Morris.
Our student vs. faculty basketball game is on April 6 at the high school! Please make sure to join us for a fun evening!
Quarter 3 ends on March 31. Reports cards will be sent out during the week of April 4.

This is a reminder that there will be a parent orientation meeting tomorrow, Tuesday, March 22 at 6:30PM to review the student scheduling process for the 2022-23 school year. The meeting will be held via Zoom at the link that was sent via email. The meeting will be recorded and posted on the Olympian Way site, with scheduling documentation posted on the Jim Thorpe Area High School site.

Congratulations to the Lady Olympians basketball team on their 40-39 win over Dunmore and advancing to the PIAA 4A State Semi-finals on Saturday. They will play Archbishop Wood. Site and time to be determined.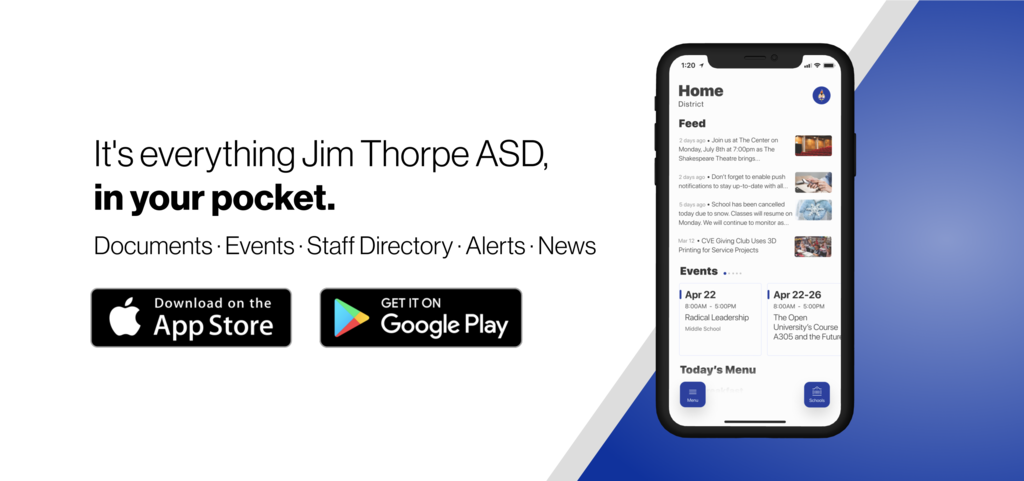 As of Friday, February 25, 2022, the CDC does not require wearing of masks on buses or vans operated by public school districts. Masks are permitted to be worn on transportation and in the JTASD schools as a parental choice.

The Jim Thorpe Area School District will be on a virtual instruction day on Friday, February 25 due to the impending storm. A virtual instruction day counts as a day of school towards the 180 day requirement, and is live instruction, with attendance taken. Students should log into their online platforms (Seesaw, Google Classroom/Meet, Schoology) on their regularly scheduled class times. Student attendance is noted in the live Instruction classes and/or when they hand in their completed assignments on the next school day.

With the inclement weather predicted on Friday of this week, JTASD will be transitioning from FID Days to "Virtual Instruction Days" in the event bad weather hits the roadways of the Jim Thorpe Community. These "Virtual Instruction Days" provide an opportunity for both asynchronous (students completing assignments on their own) learning and synchronous (live teaching with the teacher) learning, whenever possible. Please check the all call system for updates on weather related decisions later in the week.

Our Winter Cookie Dough and Online Store Fundraiser is underway now and the sale runs until February 23rd. Our goal this year is to raise $5,000 to fund in-school Programs and Activities. Things you can do to help us succeed! Prizes are awarded starting at just ONE ITEM SOLD! The more you sell the more prizes you earn! 1. Take orders and collect money with the brochures sent home. All orders and money due 2/23. Checks can be made out to: LB Morris Elementary 2. Promote online sales with
www.gofundraisenow.com
enter school ID # 220057 - cookie dough, popcorn, and other items can be purchased online, paid for online and sent right to customers home! Your participation is greatly appreciated!

As per the revised district calendar, the Jim Thorpe Area School District will be open on February 7 as a normal school day. In addition, Friday, February 11 will be an early dismissal day, with parent-teacher conferences being held that afternoon. The high school will dismiss at 11:30AM, and the LBM and PKC schools will dismiss at 12:30PM.

The Quarter 2 report cards were sent electronically on Friday, February 4. Please check your email. To access the report card, please use your child's lunch/student number. Should you have issues accessing the report card or have questions concerning your child's grades, please contact the school office.